A Strategy to Reflect The Volunteering Ecosystem
Volunteering Australia engaged ThinkPlace to help them reimagine volunteering's future in Australia. The organisation had received funding from the Government to design a new National Strategy for Volunteering, and it was imperative that this strategy reflected the diverse views of Australian volunteers. It had been more than 10 years since the last strategy was set.
Volunteering Australia saw that co-design practices could be transformative in creating a unified vision for volunteering. By empowering the people affected by the strategy, Volunteering Australia has set a powerful, unifying framework for volunteering for the next decade.
The Design Challenge
The previous National Strategy for Volunteering that had been developed in 2011 was built with limited consultation. Its implementation never happened, which meant ThinkPlace and Volunteering Australia's strategy began on a blank slate.
When Volunteering Australia approached us, their main concern was building a new National Strategy for Volunteering that meaningfully reflected the thoughts and feelings of stakeholders across the volunteering ecosystem.
Volunteering Australia requested we act as custodians for co-design best practices, ensuring the organisation spearheaded a strategic framework that enables safe, supportive and sustainable volunteering.
"Volunteering is the heart of Australian communities" – Part of the vision developed in the National Strategy for Volunteering
Our Response
Innovative, Collective Vision
While traditional approaches to strategy involve reference groups and consultation, we offered a radically different approach. Responding using an innovative participatory futures method, we engaged a diverse group of people to explore possible futures, collectively.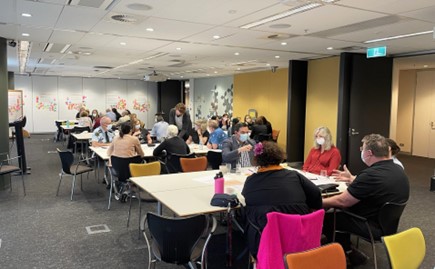 Image: Sarah Wilson/Volunteering Australia
Designing and conducting our complex co-design process with Volunteering Australia took 12 months. The first phase was discovery. In this stage, we heard about the current state of volunteering in Australia, emerging drivers of change, and commissioned academic research to ensure we could validate our findings.
Next, we conducted co-design workshops. These involved community workshops across Australia where we invited volunteers and organisations to share their aspirations for the future. The scale of these workshops was groundbreaking;y intentioning devolving power, we were able to widen the breadth of ideas that were incorporated into a 10-year vision.
To build the National Strategy for Volunteering, we assembled a Core Design Team. Using our findings, they built actionable detail into a draft strategy. Thereafter, the strategy was tested and refined.
The Impact
The National Strategy for Volunteering is a 10-year strategic framework, so the full impact of this project will materialise over time. However, extensive validation of the draft document from stakeholders within the volunteering ecosystem has confirmed our confidence.
The uniqueness of this strategic process has attracted domestic and international interest. The success of the cutting-edge participatory practices we used highlights how traditional approaches can successfully be dismantled; by engaging stakeholders from an entire ecosystem, we widened the lens to the volunteering landscape, therefore offering a clear snapshot for future decision-making.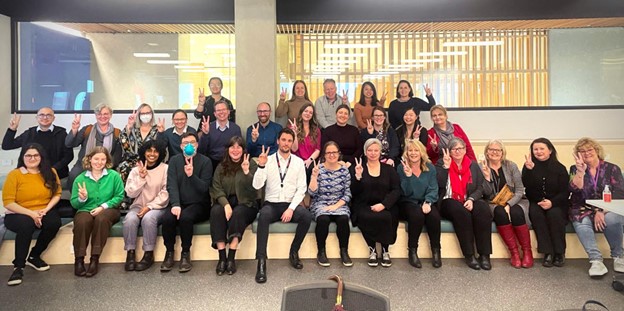 Image: Sarah Wilson/Volunteering Australia