articles
ThinkPlace's 2023 benchmark survey on Australian responses to the rise of Artificial Intelligence
Our 2023 benchmark survey on Australian responses to the rise of Artificial Intelligence gives important insights into how the community views AI and its use in government, business and personal lives.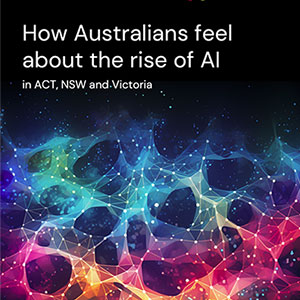 Knowingly or unknowingly, we interact with AIs every day. They are increasingly present in our work, our car, our phone, our loungeroom, our public services.
What level of trust should we have in AIs? What tasks should we entrust to them, or keep within the domain of humans? What opportunities should government and business embrace? As a society, what limits should we put in place to safeguard what's important?
There are no easy answers to these questions. AIs outperform humans in many areas, and act as engines for research, creativity and productivity. But they are also vulnerable to bias, they 'hallucinate', they often can't meaningfully show why they arrived at a conclusion or a decision.
ThinkPlace's 2023 benchmark survey explores how Australians in ACT, NSW and Victoria perceive AI's role in society.
Would you rather trust an AI or a human jury with your liberty? An AI or a human doctor with your health? An AI or a human accountant with your finances? If traits like compassion, intelligence and creativity are important to you, how do you feel AIs compare to humans today? What about in 2033?
Rather than focus on an isolated notion of 'trust', our approach compares and contrasts community perceptions of AIs and of humans in a way that reveals important insights about the intersection between technology and society.